PET FENCE - OUTDOORS

PCC-200 PRO SYSTEM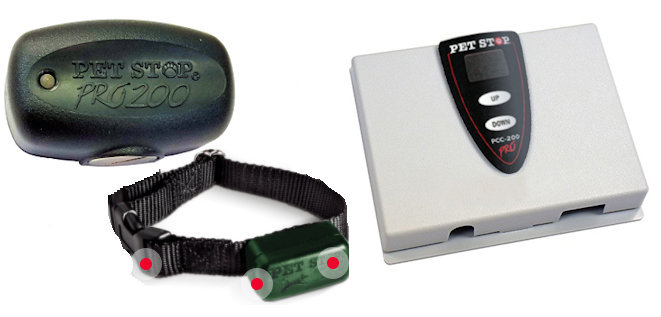 Total Peace of Mind knowing you'll know something is wrong before your dog discovers it with the diagnostic Charging Station Plus programmed to check all functions of the receiver – even the correction.
Always be secure knowing your battery is fresh with the built-in Low Battery warning light.
Pet Stop transmitter incorporates a feature that stabilizes the signal field regardless of the outside temperature.
Our transmitters incorporate DM Technology (Digital Modulation) into the design – the same type of technology trusted in commercial aircraft radios to avoid signal interference.
Because it's so small and light, it's great for smaller dogs but sturdy enough for larger breeds as well. Tough, durable, and waterproof – made of Lexan plastic.
The Night Light feature allows you to see your pet when it's dark outside.
Monitor your pet's behavior and receive a notification if a setting needs to be changed.
Access to real-time information that works with iOS and Android devices.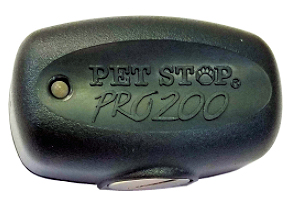 The PCC-200 Pro Receiver is our most economical receiver and comes with the PCC-200 Pro System. It features a three-level progressive correction and a two-year warranty. This receiver supports GentleSteps™ programming.

The PCC-200 Pro was the recipient of the Consumers Digest Best Buy award.
Features
TriScann® — a must-have to eliminate blind spots
Other receivers require the pet's head to be perfectly straight and level when approaching the fence signal. Pet Stop is the first to offer a three-antenna receiver, which provides your pet with a full 360-degree reception of the signal, regardless of the collar position.
Flash Alert® — notifies you to replace a weak battery
Knowing when to change the battery, or recharge it in rechargeable models, is a critical requirement for safe Pet-containment. The Pet Stop exclusive FlashAlert will remind you to replace the battery before your pet gets loose. This is a true battery-monitoring system — not a timed reminder like you might find in other brands.
Safety Stop® — fail-safe feature to prevent continuous correction
We engineer for safety even against rare situations. In the unlikely event your pet gets caught and held within range of the signal field, the patented Pet Stop SafetyStop feature limits the correction to a maximum of 20 seconds. Frighteningly, other systems don't include this fail-safe or they configure the receiver to cycle without end until the battery is depleted.
Correction Settings — three different modes
Only Pet Stop offers three different modes of correction, giving you complete flexibility in crafting the ideal system for your pet:
Progressive Mode to advance the correction level automatically
Standard Mode, incorporating up to 4 preset correction level
Your dealer will help you select the mode best suited for your pet.
Smart Receiver® — DM Technology to avoid false correction
The Pet Stop transmitters and receivers work in conjunction to provide a pure signal free from interference and false corrections from other devices.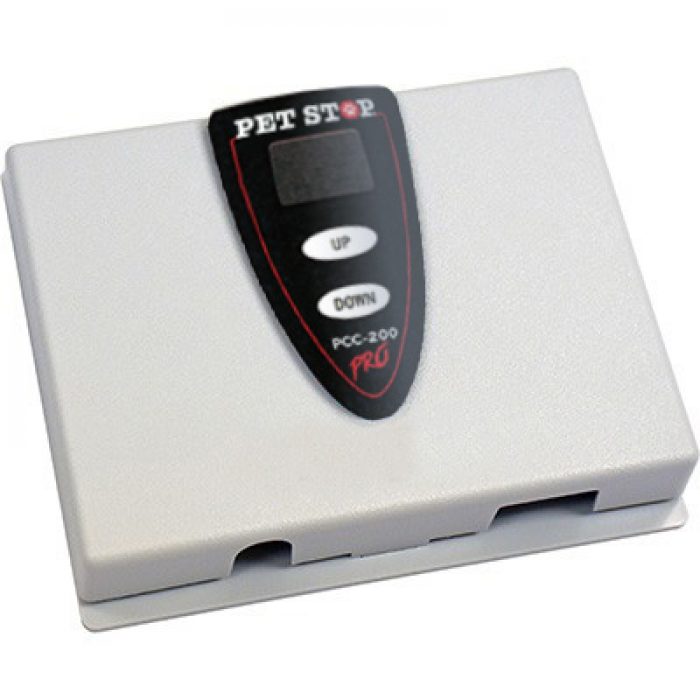 PCC 200 Pro is an economical battery operated receiver that comes with a  more economical two-year warranty. While less expensive than the other receivers, it still incorporates many of the most important features found in more expensive models.
Features
DM Technology
Our transmitters incorporate DM Technology (Digital Modulation) into the design – the same type of technology trusted in commercial aircraft radios to avoid signal interference. This technology is superior to those products incorporating limited (FM) Modulation.
Owner-Friendly Controls
You're sure to appreciate easy-to-use system settings and controls for programming your computerized Smart Receiver collar with it's large LCD display. Pet Stop can be customized to the most unique pet's needs. These controls allow you and your dealer to work together to easily implement changes without the need for costly on-site service fees.
Power Loss Memory (PLM)
Should you ever lose power, there's no need to reset your fence. Pet Stop equipment remembers all of your system settings. The last thing you want to worry about after a power outage is the safety of your pet. A battery backup unit is also available if you are affected by frequent power interruptions.
Wire Break Indicator
All units incorporate an audible and visual warning in the unlikely event your boundary wire breaks. Breaks happen, and a good warning system is key to keeping your pet safe.
Lightning Protection
The Pet Stop transmitter has some of the best lightning protection available built right into the system, preventing the need for add-on surge devices.
Yard Link™
This feature is just as it sounds: We can link your neighbor's property to yours so your dogs can play, but each dog can only return to its own door at night. If your dog has a friend next door, ask your dealer how this feature can work for you.
StabiliTemp
We designed our transmitters to withstand temperature extremes found in most garages and basements, where the transmitter is sometimes installed. Not all pet-fence systems incorporate this important feature. It's just one more way Pet Stop goes above and beyond to ensure your pet's safety.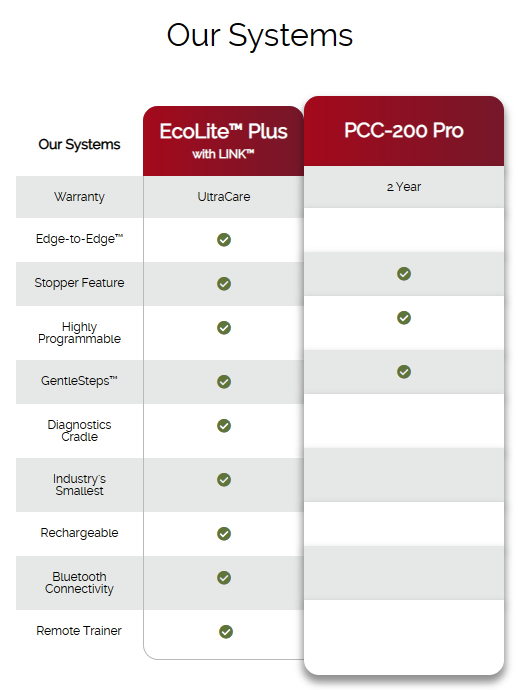 Stay Put Doggy offers a variety of packages
Alternatively, want a different type of system? Need a more economical price point?
Stay Put Doggy has complete flexibility to craft a system specifically for you and your pet!

24/7 EMERGENCY SERVICE - IMMEDIATE RESPONSE
SUPPORT AND GUARANTEE
At Stay Put Doggy we stand 100% behind any installation we perform. When there is a problem we are there to fix it.
All of our pet containment systems have warranties and we will repair anything within warranty.
If you have a different system and need our help, just call us at 812-525-0121 and we will work with you to get your system up and running again!
OUR INDIANA SERVICE AREAS:
DECATUR / RIPLEY / RUSH / FAYETTE / UNION / SWITZERLAND / BARTHOLOMEW / JENNINGS / JACKSON / JEFFERSON / MORGAN / MONROE / BROWN
Adams 47240
Alert 47283
Alpine 47331
Alquina 47331
Annandale Est 47448
Annandale Estates 47448
Arlington 46104
Batesville 47006
Bean Blossom 46160
Belmont 47448
Bennington  47011
Bentonville 47322
Bethany 46151
Billingsville 47353
Bloomington 47407
Bloomington 47402
Bloomington 47405
Bloomington 47408
Bloomington 47403
Bloomington 47406
Bloomington 47401
Bloomington 47404
Bloomington 47404
Bloomington 47407
Bloomington 47402
Bloomington 47405
Bloomington 47408
Bloomington 47403
Bloomington 47406
Bloomington 47401
Blue Creek 47041
Braytown 47043
Brooklyn 46111
Brooksburg 47250
Brownstown 47220
Brownsville 47325
Burney 47240
Butlerville 47223
Camby 46113
Canaan 47224
Carthage 46115
Centerton 46151
Clarksburg 47225
Clear Creek 47426
Clifford 47226
Cloud Crest Hills 47448
Cloud Crest Hills 47448
Coffey Subdiv 47448
Coffey Subdivision 47448
Columbus 47201
Columbus 47202
Columbus 47203
Commiskey 47227
Connersville 47331
Cortland 47228
Cottagegrove 47353
Cross Plains 47017
Cross Roads 47006
Crothersville 47229
Dabney 47023
Deputy 47230
Dunlapsville 47353
Dupont 47231
East Enterprise 47019
East Connersville 47331
East Enterprise 47019
Elizabethtown 47236
Elizabethtown 47232
Elkinsville 47448
Ellettsville 47429
Eminence 46125
Enochsburg 47240
Everton 47331
Falmouth 46127
Florence 47020
Freetown 47235
Freetown 47249
Friendship 47021
Fruitdale 46160
Glenwood 46133
Gnaw Bone 47448
Grammer 47236
Grammer 47232
Greensburg 47240
Hanover 47243
Hanover Beach 47243
Harrisburg 47331
Harrodsburg 47434
Hartsville 47244
Hayden 47245

</option>

<option>

Helmsburg 47435
Holton 47023
Homer 46146
Hope 47246
Hubbells Corner 47041
Huntersville 47006
Jefferson Proving Ground 47250
Jefferson Proving Ground 47250
Jennings 47331
Jonesville 47247
Kingston 47240
Kurtz 47249
Lake Edgewood 46151
Lake Mccoy 47240
Lawrenceville 47041
Liberty 47353
Lotus 47353
Lutheran Lake 47274
Lyonsville 47331
Madison 47250
Manilla 46150
Martinsville 46151
Mays 46155
Medora 47260
Milan 47031
Millhousen 47261
Milroy 46156
Monrovia 46157
Mooresville 46158
Morgantown 46160
Morris 47033
Muscatatuck 47223
Napoleon 47034
Nashville 47448
Nebraska 47223
New Marion 47023
New Point 47263
Norman 47264
North Madison 47250
North Vernon 47265
Nulltown 47331
Orange 47331
Osgood 47037
Paradise Lake 46151
Paragon 46166
Paris Crossing 47270
Paris Crossing 47270
Patriot 47038
Paynesville 47243
Penntown 47041
Philomath 47325
Pierceville 47039
Quailtown 47283
Queensville 47265
Retreat 47229
Roseburg 47353
Rushville 46173
Saint Paul 47272
Sandusky 47240
Sardinia 47283
Scipio 47273
Seymour 47274
Smithville 47458
Springersville 47325
St Paul 47272
Stanford 47463
Stinesville 47464
Sunman 47041
Tampico 47229
Taylorsville 47280
Treaty Line Museum 47353
Treaty Line Museum 47353
Trevlac 47448
Unionville 47468
Vallonia 47281
Vernon 47282
Versailles 47042
Vevay 47043
West College Center 47003
Waverly 46151
Waynesburg 47244
Weisburg 47041
West Brook Acres 47006
West College Corner 47003
Westport 47283
Williamstown 47240
Woodbridge 47408
46104: Arlington
46111: Brooklyn
46113: Camby
46115: Carthage
46125: Eminence
46127: Falmouth
46133: Glenwood
46150: Manilla
46151: Centerton
46155: Mays
46156: Milroy
46157: Monrovia
46158: Mooresville
46160: Morgantown
46166: Paragon
46173: Rushville
47003: West College Corner
47006: Batesville
47011: Bennington
47017: Cross Plains
47019: East Enterprise
47020: Florence
47021: Friendship
47023: Holton
47031: Milan
47034: Napoleon
47037: Osgood
47038: Patriot
47041: Sunman
47042: Versailles
47043: Vevay
47201: Columbus
47202: Columbus
47203: Columbus
47220: Brownstown
47223: Butlerville
47224: Canaan
47226: Clifford
47227: Commiskey
47228: Cortland
47229: Crothersville
47230: Deputy
47231: Dupont
47232: Elizabethtown
47235: Freetown
47236: Grammer
47240: Adams
47243: Hanover
47244: Hartsville
47245: Hayden
47246: Hope
47247: Jonesville
47249: Kurtz
47250: Madison
47260: Medora
47263: New Point
47264: Norman
47265: North Vernon
47270: Paris Crossing
47272: Saint Paul
47273: Scipio
47274: Seymour
47280: Taylorsville
47281: Vallonia
47282: Vernon
47283: Westport
47325: Brownsville
47331: Connersville
47353: Liberty
47401: Bloomington
47402: Bloomington
47403: Bloomington
47404: Bloomington
47405: Bloomington
47406: Bloomington
47407: Bloomington
47408: Woodbridge
47426: Clear Creek
47429: Ellettsville
47434: Harrodsburg
47435: Helmsburg
47448: Nashville
47458: Smithville
47463: Stanford
47464: Stinesville
47468: Unionville
ARE YOU READY TO GET A NO OBLIGATION - NO COST ESTIMATE TO PUT COMPLETELY HIDDEN FENCING IN YOUR YARD?